You may remember when I participated in the
blog tour for Dream of Me
.
YA Bound Book Tours
(or any blog tour company) ask that 3 star reviews or less not be posted during the tour, since they're trying to
promote
the book positively. While I definitely think
negative reviews are good for books
, I agree those reviews can wait. So since I was kind of iffy on
DOM
, I held off to post my review till now. But FIY, all the supporting characters ROCKED. Just not the main ones.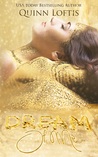 Dream of Me
by
Quinn Loftis
My rating:
3 of 5 stars
Note to self: reading on a computer makes me ridiculously indecisive.
Thank you, Quinn Loftis and YA Bound Book Tours, for this free book to review!
Usually I read books in print or on my kindle, but since I didn't know how to download the file for this book, I had to read it on the computer. I have no idea why, but reading books in a format I'm not used to somehow makes me less angry at character flaws. So I'm pretty sure Dair is a possessive stalker and Serenity has no personality beyond "nice", but I'm not super mad about that. I HAVE NO CLUE WHY. So maybe they actually were great? I dunno.
The only character I know for sure that I like is Emma. She's one of those spunky kids who's always got a good quote from her mama. And yet NO ONE (except Raphael, but he's an angel and wasn't allowed to get too involved) helped her! Apparently Serenity's aunt was very kind to Emma, but when her drunk/high guardian showed up at the library to make Emma go home, Aunt Darla did nothing! Maybe she could have, hm, called a child protection agency or something? Pretty sure those exist. She had such a lame reason at the end for not doing anything--apparently they would "take too long", so it's better to do nothing.
Also, there's no plot besides romance. On one hand, duh, this is a romance novel. Of course that's the main focus. On the other hand though, Dair only influences the dreams of people who are going to impact history in a major way. The dream he gives Serenity is to convince her not to leave her tiny town after graduating, because something is in store for her. Serenity accepts this without hesitating! She's so busy drinking in Dair's "swirling" eyes that she never even considers leaving, so Dair's visit at the beginning didn't seem to matter much.
On the up side, I did enjoy Quinn Loftis's writing, although she kept using "drug" instead of "dragged". That created multiple hilarious images in my head...Serenity's inner monologue was deliciously sarcastic though. I love it.
Would I read other books by Quinn Loftis? Maybe. She's got a knack for writing awesome supporting characters, like Serenity's friend Glory.
View all my reviews