Yep, it's another blog tour with a giveaway! This one's got a five star review. I highly suggest you add it to your to-read shelf, and then read it. Soon.
The Healer
by
C.J. Anaya
My rating:
5 of 5 stars
If I were to describe this book in one word it would be "epic". But since this is a review for a blog tour, I'm going to describe it with many more.
Thanks so much, C.J. Anaya and YA Bound Book Tours, for this free book to review!
Hope Fairmont is a normal teenage girl. She attends public school, gets good grades, has a normal best friend…sort of normal…and works as a janitor at the local hospital. Unfortunately, that's where the ruse ends. Oh, sure, she might be tidying up hospital rooms here and there, but Hope is also using a gift she hides from everyone in order to heal any patients who might need her, which, in her mind is everyone. She and her father may have been able to keep her healing gift a secret for most of her life, but there are others out there who know who Hope really is and what her gift for healing is truly meant to accomplish. Hope's life spirals out of control when two, handsome young men mysteriously appear, claiming they must protect her from a demon god determined to end her life before she can fulfill her destiny.
The Healer
truly is epic. My favorite part is how it's entirely inside Hope's head. There's no jumping from character to character or accidental head-hopping--this is Hope's story and she's the only one who tells it. The characters are all awesome too. Here's a rundown:
Hope:
Super awesome girl who's tough and knows her rights and isn't afraid to ask for them. Personally, I don't see why she likes Tie over Victor, but at least she's making her own decision. The decisions made for her aren't necessarily bad though, which leads to...
Victor
! He's nice, cute, and friendly. There are a couple of times Hope finds him too controlling and possessive, but usually I would have done the same thing. If someone you loved was in danger, wouldn't you try to protect them? I didn't (often) get the impression that he thought she was helpless. Maybe a couple times though.
And then there's
Tie
. I'm not sure if, being the Japanese god of love, he naturally attracts people or not. If so, you can't really blame Hope for her crush on him, but if it's actually real? I don't see how she puts up with him. I have a feeling that will be explored in the next book though, but I can't say anything without spoiling it.
Hope's dad and best friend were awesome too--I love how neither of them fade into the backround once Hope finds out about her destiny.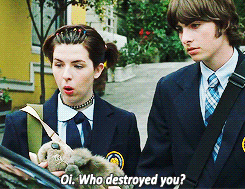 Perfect friendship.
The whole Japanese mythology and healing powers were totally believable. There's no instant acceptation of everything. Hope already knows something is up because she could heal people since she was seven, so when Tie and Victor appear, she's slightly prepared for their news, and so was I. There weren't any info-dumpings either, because it was spread throughout the whole book. As much as I don't like info-dumping, that may lead to my only issue. The whole thing feels like a set-up for the rest of the series, like it's just the backstory but the real book will come later.
I totally want to read what comes later, though. C.J. Anaya is epic.
View all my reviews
Grading:
Violence: A or B
Sexual Content: Nothing but some intense kissing.
Language: B
About the Author
C. J. Anaya began writing short stories for family and friends when she was thirteen years old. This soon morphed into an extensive project every year during Christmas as a way to create a fun and inexpensive Christmas gift.

Her passion for reading and writing led her to following her own dreams of becoming a published author. She was born in Utah and raised everywhere else. She even lived a few years in Brazil, enjoying the people, the culture and learning the beautiful language of Portuguese; a language she is still fluent in to this day. As a result of her exposure to varying peoples and cultures, her interests became varied as well.

As a mother of four children she is now a singer and a songwriter, a baker and a cake decorator, a dancer and a choreographer, a girl with a degree in Criminal Justice and a first time published author of YA paranormal romance and fantasy. She is also married to the most deliciously, handsome looking Latino. As always, she has plenty to write about.
a Rafflecopter giveaway