Water So Deep
by
Nichole Giles
My rating:
3 of 5 stars
Since this is the first mermaid book I've ever read, I didn't know what to expect. I was mildly disappointed.
Thank you, Netgalley and Jelly Bean Press, for this free book to review!
Seventeen-year-old Emma Harris is drowning on dry land.





No one knows what's happening to her, and she'd like to keep her evolution from human to mermaid a secret, but the truth is getting harder and harder to hide. From her adoptive family, from her friends, and especially from the irresistible James Phelps.





Her time in the ocean is spent dodging a possessive merman, while her time on land is split between caring for her special-needs brother and squeezing in every last possible moment of human life. She soon realizes falling for James is unavoidable when he constantly comes to Emma's rescue and somehow manages to see through her carefully constructed icy facade to the vulnerability she lives with every day. Everything about James makes Emma yearn for a life on land she just can't have.





When Emma's brother disappears on her watch, James is the only person she trusts to help her save him. But even if they can save her brother, nothing can prevent her return to the sea. Whether she likes it or not, Emma is changing—unable to breathe without yielding to the tide—and it's only a matter of time before she's forced to surrender forever.
I absolutely love the idea of a girl slowly turning into a mermaid. What would I do if I was going to leave everyone I love and go live under water, married to a guy who walked around naked when he's able to go on land? That would be pretty traumatizing, if you know what I mean. It was easy to feel bad for Emma's position, and I understood her desperation.
I was confused about Emma's family dynamics for a while though. I knew her adoptive parents aren't aware that she's a mermaid, yet Gran does. Eventually this was explained, but only at the end. That's a long time to go without knowing what's going on.
Her family is super great though, even though we barely see her parents. Keith, her special needs brother, is so innocent and adorable. Emma's in absolute torture knowing that soon she'll no longer be able to help guide him through life.
I wish Atlantis had been explained more though. I'm sure it will be in the next book, but we had so little info about it now I really didn't know what to think. All I knew, until the end where I got a bit more, is that it's under water and this dude Merrick, Emma's betrothed, guards the entrance and is allowed to walk on land. So, not a lot to tide me over for the whole book.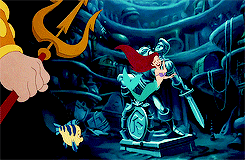 Will I read the second novel? Probably not, although that may be because I don't read paranormal books that often. Maybe you'd love this one!
View all my reviews
Grading:
Language: B
Adult Content: B?