Since You've Been Gone
by
Mary Jennifer Payne
My rating:
2 of 5 stars
Overall, the scent this book gave off was how
forced
it was.
Thanks anyway, Netgalley and Dundurn, for this free book to review!
Is it possible to outrun your past? Fifteen-year-old Edie Fraser and her mother, Sydney, have been trying to do just that for five years. Now, things have gone from bad to worse. Not only has Edie had to move to another new school she's in a different country.




Sydney promises her that this is their chance at a fresh start, and Edie does her best to adjust to life in London, England, despite being targeted b

y the school bully. But when Sydney goes out to work the night shift and doesn't come home, Edie is terrified that the past has finally caught up with them.




Alone in a strange country, Edie is afraid to call the police for fear that she ll be sent back to her abusive father. Determined to find her mother, but with no idea where to start, she must now face the most difficult decision of her life.
Seriously. Edie
finally
went to the police, but only because a child randomly fell into a river and her friend saved him, and someone had called 999. I think that's what bugged me the most about Edie: she could have called the police at any point in her life, yet continually refuses to do so.
In hindsight, Edie shouldn't really have idolized her mother at all. Her mom could have gotten help at any time, but no, she decides to live on the run instead. Grant it, I haven't been through what she did, so maybe I just don't get it...but still. She passed her dislike of police onto Edie, who sincerely thought that if she sought help, she would be sent back to her dad. Um, hello? I don't know the British justice system, but that sure wouldn't happen in America.
In Edie's defense, her dad had been a police officer, and that probably contributed to why she never sought help, even though they've lived in plenty of cities and countries that were plenty far away from him (also, how did he keep getting time off work to stalk them?).
Edie herself was okay, but she never even considers how other people feels until the last chapter. When a five year old nearly hits her with her bike, she doesn't think
Watch where you're going
, she thinks
I want to wring his neck
. I get it, when people have suffered domestic violence, they're often rough on the edges. I didn't get the sense that Edie felt broken or lost on the inside though. She just felt mean.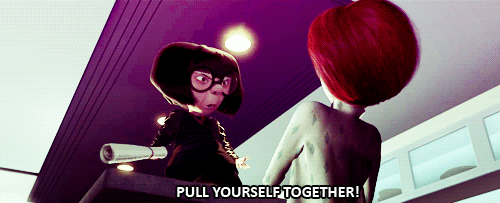 There was one aspect of this book that wasn't forced: the British slang. I loved it, even though most of it went over my America head. Also, I adored how quickly the plot moved. It kept me glued.
So, maybe I just didn't like this book because I couldn't relate to the abuse and everyone's decision to leave the police out of it. Maybe it's just me, but I didn't get much of an emotional punch from this.
View all my reviews
Grading:
So, I don't remember anything AT ALL since I'm grading this about a month after I read and reviewed this book, but I do remember Edie and her boyfriend Jermaine talking about sex, but not having it, because his mom was home and stuff. I don't think there was language, and violence-wise, it's an A or a B.