Yes, I'm very late to The Hunger Games bandwagon. But here I am, with a review for
Mockingjay
. I don't think there are any spoilers, but proceed at your own risk.
I didn't review the first two books, but here's the general rundown.
The Hunger Games:
5 stars, all the way. Lots of emotions.
Catching Fire
: 4.5 stars. My main problem was Suzanne Collins's inability to pace her novels. I'll get into that more later.
Now for
Mockingjay
.
Mockingjay
by
Suzanne Collins
My rating:
4 of 5 stars
How am I ever going to recover? I'm shocked Katniss did. I wouldn't have.
I'm split in two about this book (not literally, but I'm sure some characters were). I cannot get over the amount of bloodshed. It was probably excessive, but I'm writing this review immediately after reading it, so I don't have as clear an opinion as I will in the morning. The one death at the moment that I think was too much was
Finnick's
. (Scroll over to see the spoiler.)
Another excess in
Mockingjay
is the wasted space. In all honesty, it could have been 50-100 pages shorter. Pacing is not Suzanne Collins's strong suit. Breaking people is. As I was reading, I thought, "The ending had better blow me away, or I will completely hate this book". I'm not sure the ending blew me away, but I'm basically in shock right now. I need a blanket. Maybe when I recover, I'll be annoyed at it in some way, but for now, I'm frozen. Frankly, I was stunned throughout the entire novel.
I'm so glad about what Katniss did to Coin at the end. I probably would have done it as soon as I discovered Coin's plan, but I don't remember if Katniss had the ability to do so at that point. At least she did it in the end.
Another small qualm I have is the amount of names. Apparently Darius is the one who defended Gale in
Catching Fire
, but since so many other people were thrown at me, only to never be seen agian, anything that happened to Darius left little emotional impact. And who is Messala, anyway? Where did Cressida come from? Why on earth were nearly all of the prep teams killed? That makes no sense.
Now, time for the question I'm sure you're all dying (haha) to know. Gale or Peeta? I was wondering that myself.
Until I read the freaking novel and didn't find a love triangle.
Seriously. Every once in a while there would be a reference to the fact that Gale and Peeta loved her, but it was one of the few parts of this book that wasn't overused. I didn't classify
Mockingjay
as a romance because it wasn't one. We found out who she picked, yeah, but overall Katniss had other things to do.
I'm not going to go off on a rant about my opinion on the supposed love triangle, but as it seems so popular nowadays to have an opinion on it, I'm leaning slightly toward Peeta. Maybe I only liked him better because Gale is such a monster. Gale expected Katniss to like him, even though he had never hinted at romance until recently. Apparently he loved her for at least six months before the Games. He did nothing though! Katniss had no idea. If you're too afraid to say anything to your crush, then you don't get to be so furious when she is forced into a romance for the sake of survival in the Games. Okay? Okay.
Rant done.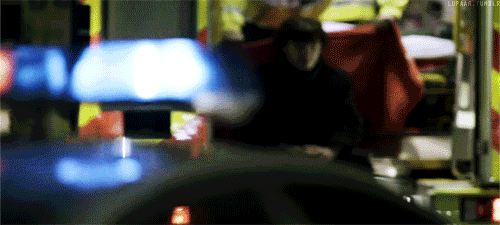 Violence: LOL. It's the last book in a trilogy about killing innocent children. It's bloody.
Language: A
Adult Content: A
View all my reviews