How cool is that? Sarah nominated me for the Very Inspiring Blog award! Thanks so much, Sarah!
Here are the rules:
List the rules and display the award
Share 7 facts about yourself
Nominate 15 other amazing blogs and comment on their posts to let them know you have nominated them
Proudly display the badge.
1. I'm nearly done with the blanket I'm knitting! I'm slightly more than a fifth of the way through.
2. I've started knitting socks using this pattern. So far, so good.
3. Christie just started a blog!!!! It's called Celtic Cowgirl. Isn't that awesome? Follow her and I'm sure you won't regret it!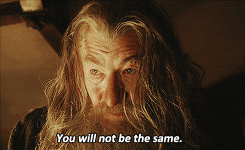 4. Submissions for We Are Writers is open! Feel free to send in your work.
5. Sometimes I realize my age and it comes as a shock to me. I feel several years older. Does that ever happen to anyone else?
6. I don't like Pinterest's new Ask Questions design. :P It's harder to find the comments, into which you could just ask your question.
7. I'm bouncing
along
to Regina Spektor's "Don't Leave Me". It's in Russian, so I have no idea what it's about. But it feels very polka-dotty. AND I CAN SING MAYBE HALF OF IT. IN RUSSIAN.
(
Butchering
the
pronunciation
, of course.)
Yeah baby.
By the way, has anyone else seen The Hobbit trailer?

ASDFGHJKL I CANNOT EVEN. HELP. I AM NOT PREPARED FOR THE FEELS.
**Takes a deep breath**
Onto the nominations, shall we?
First off, Christie. Because duh. Secondly...that's all I can think of right now. A lot of the blogs I follow are for writing only, so they don't do stuff like this. But if you do, and you see this, then by all means do it! I nominate the world (Germany in particular)!