The Fault in Our Stars
= Tear-fest. Man. That was epic. When I saw the "About the author" page, I maybe sort of wanted to stab him, just to give him a touch of what my pain felt like.
Rating: 4.5 stars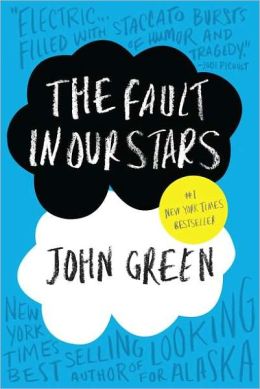 Dear John Green: As Augustus would say, "It is a privilege to have my heart broken by you". I have no idea how much this book made me cry altogether.
This book is beautiful. The only reasons why I didn't give this a five star rating is because of the language and the "inappropriate-ness" Hazel and Augustus occasionally indulged in. (Plus, the cover isn't that great.)
But the characters? They were so well-rounded. Hazel, a sixteen-year-old cancer patient, seems extremely realistic (I wouldn't know because I don't have cancer). Augustus is vain and determined to make his mark on the world, but is willing to go to any length to make Hazel happy.
The plot is basically two teenagers with cancer figuring out why they are alive in the first place, and why they should want to continue life.
Apparently some people say that John Green's teenage characters have thoughts that are too deep for their age, but I disagree. Just because his characters have an amazing insight on life, doesn't mean they're written poorly. When you've got cancer (and depression), you think about different things than others do.
Hazel also thinks outside the box, making her incredibly relatable, at least for me:
"Why are breakfast foods breakfast foods?" I asked them [her parents]. "Like, why don't we have curry for breakfast?"
"Hazel, eat."
"But why?" I asked. "I mean, seriously: How did scrambled eggs get stuck with breakfast exclusivity? You can put bacon on a sandwich without anyone freaking out. But the moment your sandwich has an egg, boom, it's a breakfast sandwich."
Is this a book I'd like to buy? YES. I will as soon as I can scavenge enough money.